Learning Monochrome¶
writer: russell j.t. dyer; posted: mar 2010; revised: apr 2018; readers past month: 820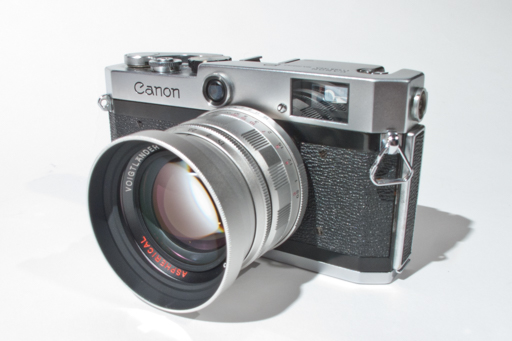 This past week, I exposed another roll of film using my Canon P rangefinder camera, trying to become more familiar with how it works and how to operate without a built-in light meter. I'm also trying to understand the factors involved in using film. I'm learning about types and qualities of film, which labs in my area give me the best results, and how to get the highest resolution digitalized images scanned from my photos taken with a film camera. For this roll, I'm trying Ilford black and white film. I've read many recommendations of their film on the internet.
I would imagine that for people much younger than me, there is a dreariness about black and white photographs. I can see that. But I can also see a classic feel to them. This may be dictated by my memories of black and white televisions as a boy. However, I think there's more than that to them. There seems to be a silence about them. They seem to be an insights into life that is unobstructed by the emotions of color. It's life without its make-up on, seeing what's under the color of life. I feel as though I'm seeing the essentials of reality when I look at a black and white photo. It's very restive.
Below are a few of the photographs that I took this week. I used a different lab to develop the film. Most of the photography stores that develop and print photographs around my home can only process color film. They send black and white film to more advanced labs to process for them. When I took this roll to my favored camera store, they cautioned me several times about the cost since I wanted five by seven inch size prints and I wanted also the images on a compact disk. Instead, they tried to get me to have the lab develop the film and transfer the images to a disk only and let them print the images on their (lower quality) printer. They thought I was ridiculous for paying nearly double to get the better quality prints. I've seen their color prints and was not impressed. I am impressed, though, by the black and white prints I got back from the lab to which they sent my film. On the envelop in which the photographs were returned is the name and web address of the lab. I'll probably go to them directly in the future to be able to make special requests.
With monochrome film, one becomes more conscious of contrasts than with color film. Contrast and shading are mostly what one has in a black and white photo. Texture, mood, subtlties of light are the focus of black and white images. Click on the image of the columns on the left, the fourth image and consider its contrast of tones. One's eye is drawn to the sunlight and the shadows caused by the columns, to the elongated and arching patterns on the pavement. Look at the photo of the birds, the second picture. Consider how rock doves or pigeons are predominantly gray and white in color. They look very similar in color as they do in black and white here. Other than a bit of iridescent purple, the coloring is almost the same in this photo as it would be if I used color film. Is this how they see each other, how they see life? In black and white? How lonely is the third image, the shot of the bicyle leaning against the wall with the famous photograph of the Afgan girl from National Geographic watching it from across the lane. Thoughts are different when looking at a black and white photo. Without the stimulation of color, our thoughts can go deeper.
The novelty and nobility implied in black and white photos makes me want to take better pictures. I can't help but recall the images of Henri Cartier-Besson and his monochrome images taken with a Leica camera, very similar to my Canon P camera. His work is both inspirational and humbling. Sometimes I try to think of a place where I can go to take some shots like him, or at least something artistic. Then I remember what he said in an interview, that all of his best photos are accidents. He didn't orchestrate his photos. Instead, he walked around, became familiar with his subjects, and snapped when he saw something interesting and hoped to get lucky. All good photos are luck, he said. So, I walk around with my Leica-like camera trying to take a picture in the style of Cartier-Besson, looking for the right angle, the right moment. He says, the difference between a good picture and a great picture is a question of milimeters |—| a small, small difference, but it's essential. Click on my photo of the street with the street car cables overhead, the last one. You can see the castle in the background. There's a tab from the cables that obstructs the view of the top of the castle. It's not much of an obstruction, but had I stood few milimeters to the right, it would not obstruct the view at all and the photograph would have been much better. Of course, I can photoshop it out of the image, but a good image to start is always better. And with film, we rely more on luck of the moment and an intuition about where to point the camera, not staging and post photographing modifications. That alone makes the photograph and photographing more real to me; it makes me feel more connected to the subject I'm photographing and not so removed.