Film Camera and Lens Combination¶
writer: russell j.t. dyer; posted: apr 2010; revised: mar 2018; readers past month: 960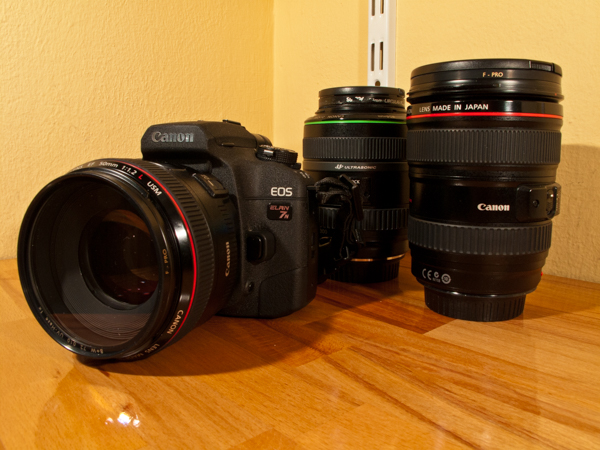 During the past nine months I have bought and have been using film cameras, primarily old Canon rangefinder cameras. My favorite film camera is a Canon P made in 1961. It's a sweet looking ride, but it doesn't have a built in light meter. This was common during that era. It's taken quite an effort to learn how to use film again and to do so without a built-in light meter. I've learned a great deal more about photography in the process, though.
The primary equipment weakness, though, that I have with film cameras is regarding lenses. I own a Canon 5D Mark II, which is awesome, and I have a few excellent Canon lenses that I use with it. For my Canon P, though, I have only one lens: a very nice Voigtlander 50mm f/1.5 llens, but nothing compared to my Canon EOS L series lenses. The results of my film prints have been difficult to compare to the results of the digital images from my 5D MII. I realize that they're naturally different, but my limited lens choices (i.e., only one lower quality lens) limits my enjoyment of film. In time I may purchase some better lenses for my rangefinder camera — certainly there are some superior lenses that have been made by Leica — but for now I'm able to purchase better lenses.
Recently, though, I came up with an excellent solution: I bought a Canon Elan 7n Camera (a.k.a. 33v outside of the U.S.) on ebay. I paid about $ 100 (about € 75) for it from someone in San Diego. It's in excellent condition, not a scratch on it. This model is basically the last film camera that Canon designed. It's about 6 years old. Canon continued to sell the EOS 1v for years afterwards, but it was designed before the 7n/33v. This EOS model has pretty much the latest non-digital camera technology from Canon. Best of all and the point of the purchase, I can use my EOS lenses with an excellent film camera, at an additional cost of only $ 100 (not including the cost of film and printing). So now I have a spectacular film camera with high quality lenses.
To the left here are four photographs that I've taken recently with the Canon Elan 7n. The first three were taken in Milan; the last one of the bicycle was taken in Pavia. The coloring of the shot with the bicycle has been enhanced a bit in Adobe Photoshop for a more artistic appeal. The film used for the Milan shots was Kodak Portra 160 NC; for the shot in Pavia, I used Kodak Ektar 100. NC in the name of the first film stands for natural color. Despite its name, it produces richly colored images.
Regarding the camera, the Canon EOS Elan 7n (the 33v) looks very similar to the Canon 5D Mark II, but a little smaller and lighter. The camera controls are slightly different, but close enough that I was easily and quickly able to adapt and learn how to use it. The only component that is a little disconcerting is the absence of an LCD review screen on the back of the camera. Many times in the beginning after taking a shot I would look down to see the results. This seems to be a deeply embedded habit that I've developed. The nice aspect of this missing feature is that it forces me to visualize the results of each photo, rather than relying on seeing the results. This may improve my photography skills. One very positive comment I can make about this camera, though, is that it's a very quiet camera, much quieter than the Canon 5D Mark II. It's not as quiet as the Canon P rangefinder, but still so quiet that I'm able to get closer to people without them hearing me take their picture. You can see how close I was able to get to people in the shots on the left using a lens with a 50mm focal length.
If you click on each image on the left, it will open another window and show you an enlarged copy. If you do so, I think you will be able to see that the results of this camera combination of a recent model Canon EOS camera with current model Canon EOS lenses are excellent. The printed images I received from the labs are very well done. The only thing that could have been done to improve the results of the digital images that the labs gave me would have been to use a better scanner. A scanner like the Epson V700 would give me higher resolution images from scanning the negatives — these images are scanned from the negatives, but the scanners and the settings used aren' as good as they can be.